Totsu-totsu Dance Workshop in Malaysia
マレーシアでのWSのお知らせ
Totsu-totsu Dance Workshop in Malaysia
マレーシアでのWSのお知らせ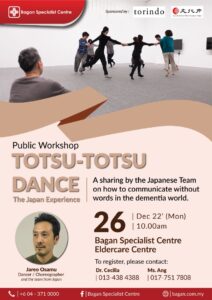 (↓日本語の案内はこの下にあります)


After the successful Introductory Talk Session in August,"Totsu-totsu Dance ~like art, like care", a collaborative project between Japan and Malaysia, has run 5 workshops online, crossing physical expressions (dance and music) and dementia care. This December, the project will finally be conducted physically as the Japanese team will be visiting Malaysia.


In this project, JAREO Osamu, a Japanese dancer/choreographer with over 10 years of experience working with dementia patients and Kamal Sabran, an artist/researcher who has been researching the possibility of music therapy for dementia in Malaysia, are working together with people with dementia, their care partners and families living in Malaysia through a series of workshops and talks.


2 public workshops will be held in Malaysia, taught by Japanese dancer and choreographer Osamu Jareo. Please join us.

Totsu-totsu Dance Workshop in Malaysia
1) Date & Time: 26 December, 2022 (Mon) at 10am
Venue: Bagan Specialist Centre (Eldercare Centre), Penang
Participants: Dementia patients, care partners of dementia
Participation Fee: Free but prior registration required

2) Date & Time: 2 January, 2023 (Mon) at 10am
Venue: Bagan Specialist Centre (Seminar 1, Level 4, Block A), Penang
Participants: People who are interested in dementia care, care partners
Language: English and Japanese (with Japanese to English interpretation)
Pariticipation Fee: Free but prior registration required

*For registration, kindly contact Dr. Cecilia ((+60)13-438 4388) or Ms. Ang ((+60)17-751 7808)


General Inquiry:
  Mail totsu2.malaysia@gmail.com
  Facebook https://www.facebook.com/series.totsutotsu

Organized by: Agency for Culture and General Association (Japan), torindo




In cooperation with:
  School of The Arts, Universiti Sains Malaysia
  C&S Associates Aged Care Consultancy and Training Malaysia
  Special Nursing Home for the Elderly, Graceville Maizuru
  The Japan Foundation, Kuala Lumpur

For more information on the project, please click here.
The Japan-Malaysia collaborative project "Totsu-totsu Dance, like art, like care" project page


============================================
日本とマレーシアの共同プロジェクト「アートのような、ケアのような《とつとつダンス》」は、8月のイントロダクション・トークセッションを経て、マレーシア在住の認知症の人と介護者・ご家族とともに、身体表現(ダンスや音楽)と認知症ケアを掛け合わせた5回のオンラインワークショップを開催してきました。今年12月には、日本チームがマレーシアを訪問し、いよいよ現地でのプロジェクトが展開していきます。
日本のダンサー・振付家の砂連尾理(じゃれお・おさむ)が講師を務める2つの公開ワークショップがマレーシアで開催されます。
Totsu-totsu Dance Workshop in Malaysia
1)2022年12月26日(月)10:00〜
会場: ペナン州バガン・スペシャリスト・センター(エルダーケアセンター)
参加対象者:認知症の方、認知症のケアパートナー
参加費:無料(要事前登録)

2)2023年1月2日(月)10:00〜
会場:バガン・スペシャリスト・センター(セミナー1、レベル4、ブロックA)、ペナン市
参加対象者:認知症ケアに関心のある方、ケアパートナー
参加費:無料(要事前登録)
言語:英語、日本語(日英通訳付き)

WSについてのお申込み・お問合せ:
バガン・スペシャリスト・センター
担当:Dr.Ceclia((+60)13-438-4388)、Ms. Ang((+60)017-751-7808)


プロジェクトのお問い合わせ:
  メール totsu2.malaysia@gmail.com
  Facebook https://www.facebook.com/series.totsutotsu

主催:文化庁、一般社団法人torindo

協力:
School of The Arts, Universiti Sains Malaysia
C&S Associates Aged Care Consultancy and Training Malaysia
国際交流基金クアラルンプール 日本文化センター
特別養護老人ホーム グレイスヴィルまいづる





※文化庁委託事業「令和4年度障害者等による文化芸術活動推進事業」
『日本からマレーシア、アジア太平洋へ~認知症患者・高齢者と介護者とつくる
「アートのような、ケアのような《とつとつダンス》」』



プロジェクトの詳細はこちらをご覧ください。
日本とマレーシアの共同プロジェクト「アートのような、ケアのような《とつとつダンス》」のプロジェクトページ