Totsu-totsu Dance Workshop in Singapore Sep 2023
シンガポールでのWSのお知らせ 2023年9月
Totsu-totsu Dance Workshop in Singapore Sep 2023
シンガポールでのWSのお知らせ 2023年9月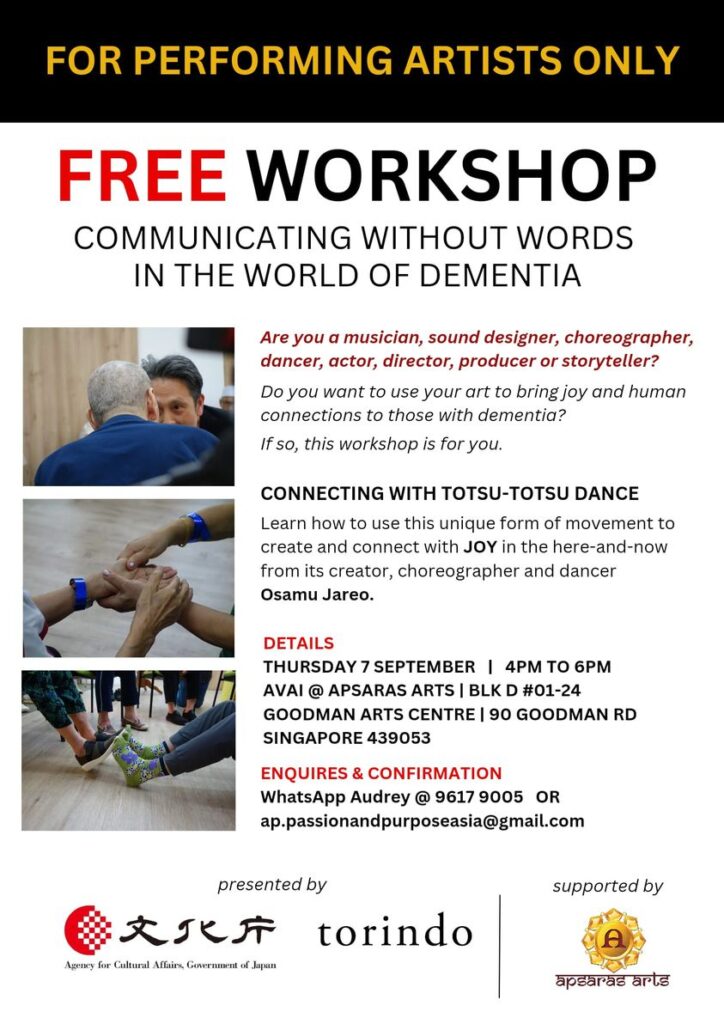 (↓日本語の案内はこの下にあります)


The Japan-Malaysia joint project, "Art like, Care like 《Totsu-tostu Dance》," started in FY2022.
After a recent visit and workshop in Singapore, we will again be conducting a workshop in Singapore in September!
The public workshop will be held on the following dates.
Introduction to and demonstration of the program by Choreographer / dancer Osamu Jareo.
Totsu-totsu Dance Workshop in Singapore Sep 2023
Date & Time: 7 September, 2023 (Thu) at 4pm
Venue: Apsaras Arts
(Blk D #01-24 Goodman Arts Centre, 90 Goodman Rd, Singapore 439053)
Participants: Performing artists
Participation Fee: Free
Enquiries & confirmation:
Whatsapp Audrey 96179005 or ap.passionandpurposeasia@gmail.com

General Inquiry:
  Mail totsu2.malaysia@gmail.com
  Facebook https://www.facebook.com/series.totsutotsu

Organized by: Agency for Culture and General Association (Japan), torindo




Supported by: Apsaras Arts In cooperation with: Dementia Singapore


The "Totsu-totsu Dance" will also participate as a related event in Singapore's largest event "Our Family Fiesta" (September 9), organized by Dementia Singapore, which aims to raise awareness of dementia. More details will be announced at a later date.



For more information on the project, please click here.
The Japan-Malaysia collaborative project "Totsu-totsu Dance, like art, like care" project page


============================================
2022年度にスタートした、日本とマレーシアの共同プロジェクト「アートのような、ケアのような《とつとつダンス》」。
2023年8月のシンガポールへの訪問とワークショップを経て、再び9月にシンガポールでワークショップを行います。
公開ワークショップは下記の日程で行います。
Totsu-totsu Dance Workshop in Singapore Sep 2023
日時:2023年9月7日(木)16:00〜18:00
会場:Apsaras Arts
(Blk D #01-24 Goodman Arts Centre, 90 Goodman Rd, Singapore 439053)
参加対象者:パフォーミングアーツのアーティスト
参加費:無料
ワークショップについてのお問合せ:
Whatsapp Audrey 96179005 もしくは ap.passionandpurposeasia@gmail.com


プロジェクトのお問い合わせ:
  メール totsu2.malaysia@gmail.com
  Facebook https://www.facebook.com/series.totsutotsu

主催:文化庁、一般社団法人torindo




後援:Apsaras Arts
協力:Dementia Singapore

※文化庁委託事業「令和5年度障害者等による文化芸術活動推進事業」
『日本からマレーシア、アジア太平洋へ~認知症患者・高齢者と介護者とつくる
「アートのような、ケアのような《とつとつダンス》」』


また、Dementia Singaporeが主催する認知症を広く知ってもらうシンガポール最大級のイベント「Our Family Fiesta」(9月9日開催)の関連イベントとして「とつとつダンス」が参加します。詳細は後日お知らせします。

プロジェクトの詳細はこちらをご覧ください。
日本とマレーシアの共同プロジェクト「アートのような、ケアのような《とつとつダンス》」のプロジェクトページ