Japan-Malaysia Collaborative Project for Dementia"Totsu-totsu Dance ~like art, like care" Exhibition and Talk session of 2022 Activity Report
ホーム
>
News
 >Japan-Malaysia Collaborative Project for Dementia"Totsu-totsu Dance ~like art, like care" Exhibition and Talk session of 2022 Activity Report
Japan-Malaysia Collaborative Project for Dementia"Totsu-totsu Dance ~like art, like care" Exhibition and Talk session of 2022 Activity Report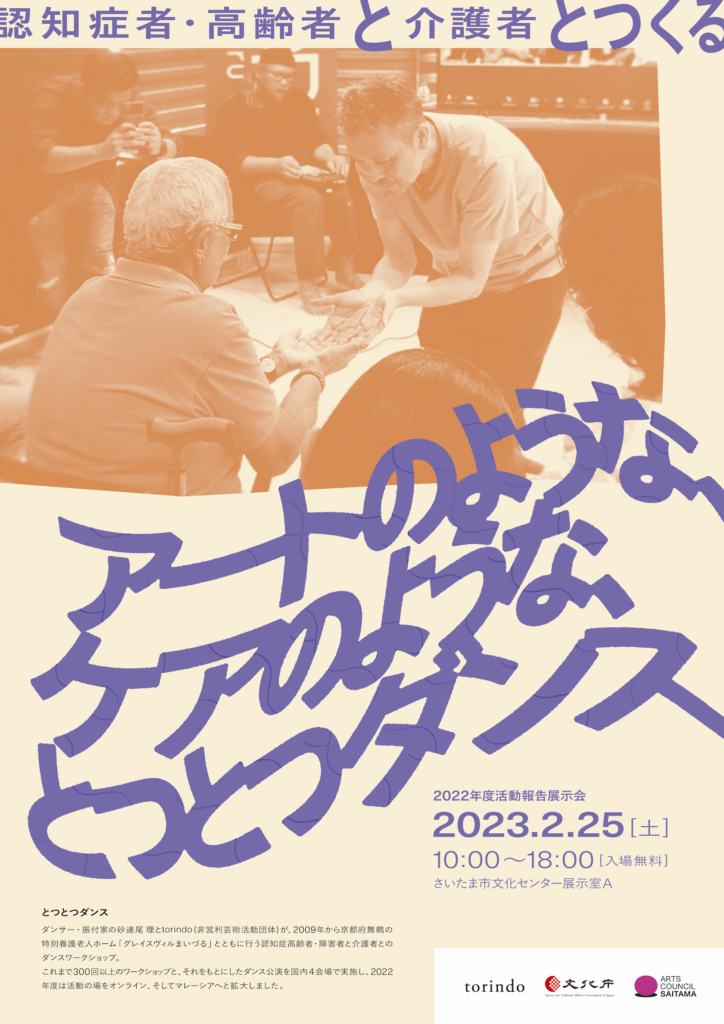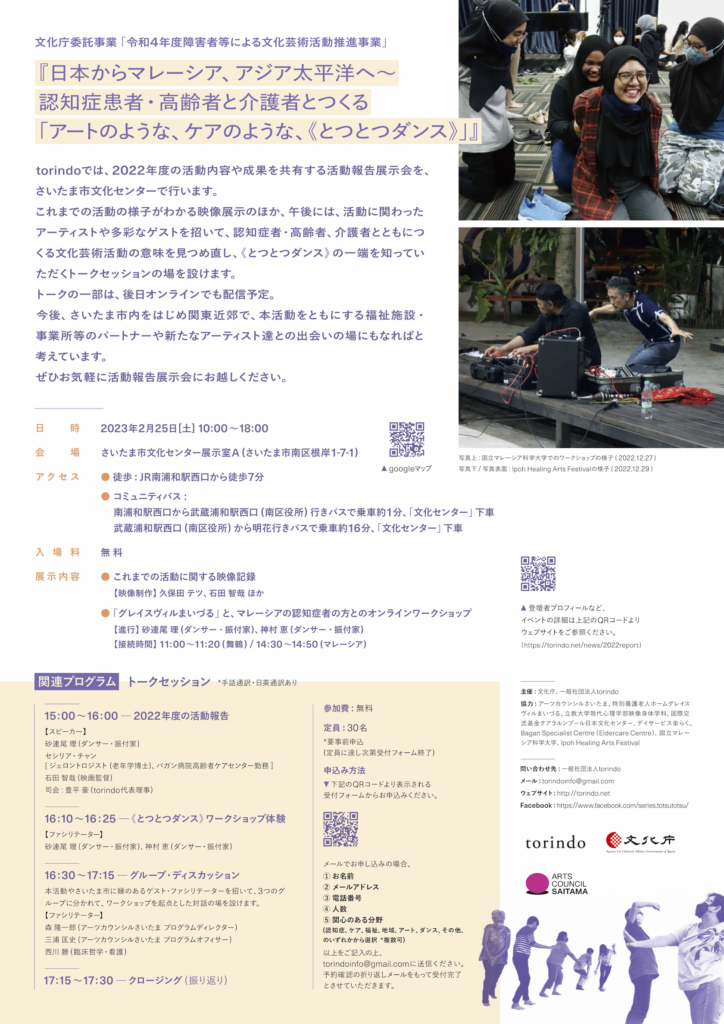 Since 2009, dancer/choreographer Osamu Jareo and torindo have been conducting "Totsu-totsu Dance," a dance workshop with elderly people with dementia and their care-partners, together with "Graceville Maizuru," a special nursing home for the elderly in Kyoto. To date, more than 300 dance workshops and performances based on the workshops have been held in Japan, and in 2022, we have expanded the scope of our activities to online and to Malaysia.


We are pleased to announce that we will hold a reporting video exhibition at Saitama City Cultural Center to share our activities and achievements in 2022. In addition to a video exhibition showing the activities to date, in the afternoon we will invite artists involved in the activities and a variety of guests to a talk session to reconsider the significance of cultural and artistic activities created together with people with dementia, the elderly, and care-partners, and to learn about some aspects of "Totsu-totsu Dance". Some of the talks will be broadcast online at a later date.


We hope that this exhibition will also serve as an opportunity to meet new artists and partners from welfare facilities and offices in Saitama City and the Kanto area who share our activities in the future. Please feel free to visit the exhibition.
Exhibition of 2022 Activity Report
【Date】 Saturday, 25 February, 2023
【Time】 10am – 6pm (Japan Time)

【Venue】 Saitama City Cultural Center Exhibition Room A  map(Google map)
【Access】
・On foot: 7 minutes walk from JR Minami-Urawa Station West Exit
・On community bus: From Minami-Urawa Station West Exit, take the bus bound for Musashi-Urawa Station West Exit (Minami Ward Office). 1 minute ride and get off at "Bunka Center". From Musashi-Urawa Station West Exit (Minami Ward Office), take the bus bound for Myoubana. 16 minutes and get off at "Bunka Center" bus stop.

【Admission fee】 free

【Exhibit Contents】
Video recordings of past activities
Online workshop between "Graceville Maizuru" and Malaysian people with dementia
[Facilitators] Osamu Sunareo (dancer/choreographer), Megumi Kamimura (dancer/choreographer)
[Connection time] 11:00-11:20 (Maizuru), 14:30-14:50 (Malaysia)

【Related Programs】
Talk Session (*Sign language interpretation, Japanese-English interpretation available)

15:00-16:00  Report on activities in FY2022
[Speakers] Osamu Jareo, Cecilia Chang (Gerontologist (Doctor of Gerontology, working at the Bagan Specialist Center Eldercare Center), Tomoya Ishida (Film Director), Takeshi Toyohira (Representative Director of torindo) [Moderator].

16:10-16:25  Experience 《Totsu-totsu Dance》 Workshop
[Facilitators] Osamu Jareo, Megumi Kamimura

16:30-17:15  Group Discussion
Guest facilitators who have connections to the activities and the city of Saitama will be invited to participate in a workshop-based dialogue in three groups.
[Facilitators] Ryuichiro Mori (Program Director, Arts Council Saitama), Tadashi Miura (Program Officer, Arts Council Saitama), Masaru Nishikawa (Clinical Philosophy and Nursing)

17:15-17:30  Closing (review) 

[Participation fee] Free
[Capacity] 30 people (advance registration required; registration form will be closed when capacity is reached)
Please apply using this Google Form (Japanese).
If you are applying by e-mail, please fill in the following information and send to torindoinfo@gmail.com. Reservations will be confirmed by a confirmation email. (1) Name, (2) E-mail address, (3) Telephone number, (4) Number of people, (5) Areas of interest (dementia, care, welfare, community, art, dance, other)


Organized by: Agency for Culture and General Association (Japan), torindo




In cooperation with:
Arts Council Saitama
Special Nursing Home for the Elderly, Graceville Maizuru
Department of Body Expression and Cinematic Arts, College of Contemporary Psychology in Rikkyo University
The Japan Foundation, Kuala Lumpur
Eldercare center Rakuraku
Bagan Specialist Centre (Eldercare Centre)
School of The Arts, Universiti Sains Malaysia
Ipoh Healing Arts Festival


Inquiry:
  Mail totsu2.malaysia@gmail.com
  Facebook https://www.facebook.com/series.totsutotsu


【Speakers' Profiles】
Osamu Jareo
Dancer and choreographer. He creates dance works based on interviews with a theater company of disabled people in Germany, elderly people in Maizuru, and people living in an evacuation center in Miyagi, etc. He views illness and disability as "transformation in the process of living" and creates dance works through dialogue. She is a specially-appointed professor at Rikkyo University's Department of Contemporary Psychology and Department of Moving Images and the Body.
Cecilia Chan
Cecilia Chan is a gerontologist (Doctor of Gerontology). She has consulted for a number of senior welfare services and facilities, and founded "Living Beyond Dementia," a community support group to support people with dementia, their families and caregivers, and to promote understanding of dementia. Currently, she works at the Bagan Specialist Center Eldercare Center.
Kamal Sabran <Video appearance>
Artist and researcher. His interests are in the fields of art and health and welfare, and his projects include a healing art project and a soundscape for Alzheimer's disease patients. He has received numerous awards, including the ASEAN New Media Artist Award. He is a professor at the Faculty of Arts, Universiti Sains Malaysia (USM).
Tomoya Ishida
Film director. Electric wheelchair user with muscular dystrophy. He graduated from Rikkyo University with a Master's degree in Contemporary Psychology. When he was in junior high school, he was introduced to the iPad as a learning method that suited him, and his interest in filmmaking was sparked when he made a short film on it. Served as a member of the executive committee of the "Barrier-Free Film Screening" volunteer circle, planning and organizing screenings. His first film "Henshin! won the Grand Prix at the Pia Film Festival's "PFF Award 2020.
Megumi Kamimura
Dancer and choreographer. She began presenting solo works in 2004 and has performed in various venues in Japan and abroad, including Italy, Korea, Indonesia, Finland, and the UK. In recent years, she has been interested in the relationship between words and movement, and has created works that use a mechanism to convert between the two.
Ryuichiro Mori
Program Director of Arts Council Saitama / President of "Nagisato LLC. Involved in on-site production, public relations, and research for arts and culture. He aims to nurture a new relationship between art and society, named after "Nagisa," which is neither land nor sea, but a place where the boundary line wavers. He has practiced new ways of cultural facilities in Koto-ku, Tokyo and Iwaki City, Fukushima Prefecture, and served as PR director of Arts Council Tokyo, before becoming independent in 2018. Currently, he is involved in various activities including projects at Tokyo University of the Arts, Ginza Vision Conference, and the Yokohama Museum of Art web renewal, etc. From October 2022, he will serve as Program Director of Arts Council Saitama. Co-author of "Reconstruction from Culture: Citizens, Earthquake, and Iwaki Alios," Suiyosha
Tadashi Miura
Program Officer, Arts Council Saitama / Director and Secretary General, Urban Development NPO Saitama / Representative of the private firm Community Life Design. He organizes workshops to promote citizen participation, plans and manages symposiums, acts as a link to form networks with various citizen groups and individuals, and works as an intermediary between citizens and the government as an urban development NPO. He served as project director for Saitama Triennale 2016 and curator for Saitama International Art Festival 2020.
Masaru Nishikawa
Born in Osaka in 1957. Specializes in nursing and clinical philosophy. Formerly a specially-appointed professor at the Center for the Study of Communication Design, Osaka University. He has been involved in "Totsu-totsu Dance" since 2010 and has facilitated dialogues. Currently, while conducting research on "dementia communication," he is also involved in activities such as philosophy cafes. His publications include "Hesitation Nursing" (Iwanami Shoten) and "My Neighbor's Dementia" (Puneumasha). Co-author of "What is Care?" (edited by Isao Ozawa, Igaku Shoin).
Takeshi Toyohira
Director of torindo, a general incorporated association. Lives and works in Saitama City. D. in Cultural Anthropology at Osaka University. Since 2009, he has been participating in the art project "Maizuru RB" in Maizuru, Japan. He has been involved in the "Totsu-totsu Dance" project, including the "Cultural Anthropology Café," which provides a forum for dialogue with caregivers and neighborhood residents.
Tetsu Kubota<Video provided>
Director of npo remo (an organization for documentation, expression and media). He is involved in projects, workshops, and public space creation through visual media. He is a associate professor at the Osaka college of music. He participated in the "Totsu-totsu Dance" project after being invited by Masaru Nishikawa,who said, "Kubotchin, it's definitely fun!" He worked intermittently as a video recordist from 2011 to about 2015.